Postgraduate Diploma in Counselling Children in Schools
With a Diploma in child counselling, you'll gain the skills and experience you need to become a fully qualified child counsellor. Our Diploma also includes a supervised placement in a Place2Be school.
Overview
Applications for September 2024 are open! 
We will be inviting applicants to interview from January 2024 and offering places on a rolling basis, with the final deadline being the 5 February 2024. The programme will close once all of the available places have been filled so don't miss out on your chance to apply.
Course details
Course breakdown
400 hours of contact time with tutors and 100 supervised clinical hours over the two years
at least 30 hours a year of personal therapy
one day of tuition and one day on placement in a Place2Be school
two training weekends in Year 1 and three training weekends in Year 2
substantial reading and written work outside of contact hours.
Topics covered
A combination of academic and experiential learning, covering a range of topics, including:

the use of play and creativity
self-awareness
child development and observation
counselling skills using an integrative therapeutic approach
person-centred, psychodynamic, systemic, transcultural work and attachment theories
assessment, referral and multi-agency working.
Useful for those who want to:
become a qualified and registered child counsellor
learn how to work therapeutically with children and their families within a multi-agency setting
receive training in child development, systemic thinking and integrative theory
develop skills as a creative and reflective counselling practitioner
apply for clinical roles at Place2Be.
Helpful documents
Download full course specification (PDF 198KB)
Meet our Postgraduate Diploma team
Virtual Information Session
Interested in applying? We encourage you to attend our next information session on the 16th January 2024 at 6pm. You can register here. 
Entry requirements
To submit your application and meet the entry requirement for this course, you must have or completed all of the following:
1. A Place2Be Taster Day
You must have attended a Place2Be Taster Day within 18 months of enrolling on the Postgraduate Diploma course unless you have completed Place2Be's Level 3 Certificate. 
2. A counselling certificate 
You must have, or are studying towards, at least one of the following:
Place2Be's Level 3 Certificate

a Level 3 certificate in counselling completed face-to-face over 9-12 months, including theory, skills practice and evidence of self-awareness

a Diploma in Counselling (Level 4 or above in England and Wales, or equivalent diploma at SCQF Level 9-11 in Scotland)

a degree or masters in Counselling, Psychotherapy or Art Therapy.
Please note that, unfortunately, we are unable to accept online courses. 
3. A degree and/or professional qualifications 
You must have a degree or equivalent professional qualification. If you have not completed a degree, you can still apply, but you must submit a 1,500-word essay as part of your application. Your essay will be titled My Philosophy of Counselling. Your typed essay should include a minimum of three sources and a bibliography. 
4. Additional skills and experience
You must have the following: 
received counselling or psychotherapy yourself

 

significant experience working with children or young people

 

a willingness to be playful and creative

 

a commitment to be self-reflective and committed to self-development

 

spoken and written English to GCSE level.

 
References
We need two references to support your application for the Postgraduate Diploma in Counselling Children in Schools. We will ask you to give these during your application. One reference must be from a previous employer, and the other must be a character reference. Please note that we will only contact these references if you are offered a place on the course. Your place will be conditional on receiving satisfactory references.
Accreditation
Our Postgraduate Diploma in Counselling Children in Schools is:
accredited by the British Association of Counselling and Psychotherapy (BACP)
Payment options
The fee for the Postgraduate Diploma is £6,365 per year. You have three options to pay the total course fee.
Each payment option includes a non-refundable deposit of £636.50 as part of your first instalment.
Payment will be required only if offered a place to study.
Option A
2 Payments of £6,365 one year apart (full course fee).
Option B
6 payments of £2,122 every four months (termly).
Option C
20 payments of £636.50 (monthly).
Financial support through Place2Be's bursary scheme
If you struggle to fund this level of training, you can apply for a financial support package. To be eligible you need to show that you have an annual household income of less than £35,000, confirm that your highest level of education is degree-level (Level 6) or lower and meet the course entry requirements. This financial support may cover:
your partial tuition fee
your full course tuition fee
up to £3,000 subsidy for personal therapy
further options to reclaim resource expenses.
You can read our information about our bursary for our qualifying courses on our website.
More information
For more information, please read our counselling training FAQs or get in touch through our enquiries form. You can also call us on 0207 923 5558.
Endorsements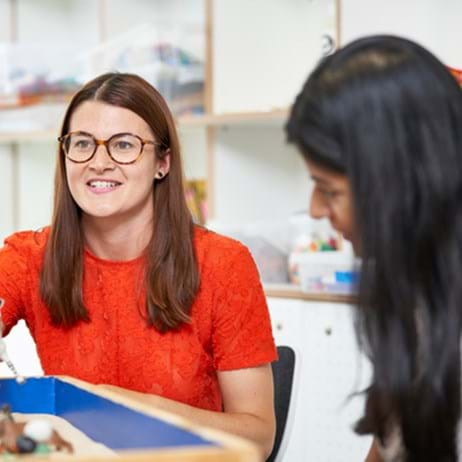 I was bowled over by how interactive the course was - a far cry from sitting in a classroom being talked at. When you're preparing people to support children with social and emotional difficulties, presentations and conversations can only go so far.
Cherrelle, Postgraduate Diploma graduate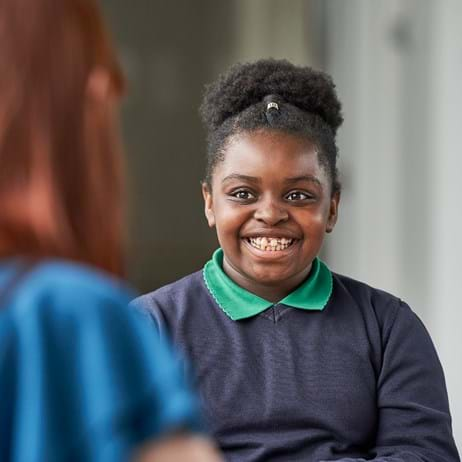 Apply now
Applications for our 2024 intake are now open.
Use the drop-down menus below to apply to our Postgraduate Diploma in Counselling Children in Schools.