Our approach to children's and young people's mental health



Our approach to children's and young people's mental health
Every day, children and young people across the UK struggle with their mental health.
We are committed to helping children and young people with their mental health, and the need for our services grows daily. 1 in 5 children and young people experience mental health difficulties. Half of all mental health problems are established by age 14.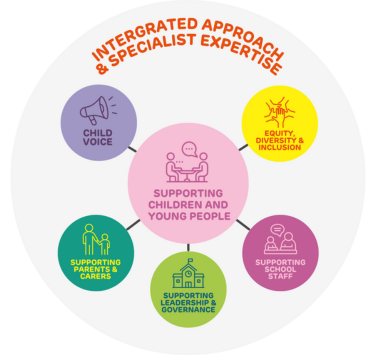 Our approach to children's and young people's mental health is to intervene early to prevent life-long mental health issues. We do this by:
---
Providing support early
Place2Be is a pioneer in early intervention. We help schools understand and identify mental health problems, enable children and young people to focus on learning and give them tools to cope with challenges throughout their lives. Find out more about our benefit to society.
Our services benefit society. For every £1 invested, our counselling service in primary schools has the potential to return £8.
Our therapeutic approach
Our support allows children and young people to express themselves through talking, creative work and play. Our mental health professionals use an integrative therapeutic approach backed by research that brings together different strands of therapeutic thinking to support the development of each child and young person. Find out more about our therapeutic approach.
Our mental health services
We offer a range of different mental health support services to meet schools' needs. Our services include a devoted on-site mental health professional who runs these services.
Place2Be is part of our school family. It is more than an office, a therapy room, and a collection of counsellors.
Glyn Ellis – Headteacher, Haslingden Primary School
Our services offer advice and support for families and training and consultations for school staff. Our services help build resilience and raise awareness of good mental health across the whole school community. Read about our school services.
The services we offer include:
one-to-one counselling for pupils who are struggling
short appointments to talk about worries, booked by pupils
group work about friendship, self-esteem and other issues
training for school leaders and staff to make schools more mentally healthy
consultations for school staff about behaviour and wellbeing
advice and support for parents to help them look after their child
group programmes using art and discussion to build pupils' self-esteem.
The difference we make
Evidence shows that our work makes a real difference in children's and young people's lives. We collect data and analyse the impact we make in schools to help us improve our services. Read about our statistics and evidence.
After one-to-one counselling with Place2Be, 76% of pupils with severe difficulties showed an improvement in mental health.
Using evidence and experience working directly with children and young people in the school environment, we:
 inform public policy across the UK
engage politicians to help raise awareness of the importance of supporting wellbeing within the school community.