Senior Mental Health Leads training - Department for Education Quality-Assured
Our Senior Mental Health Leads training programme will help you to develop a whole-school approach to mental health that benefits all members of your school community.
Department for Education (DfE) grants are now available for the 2023/2024 financial year.
Eligible schools and colleges can now claim a second grant if a previously trained Senior Mental Health Lead left their setting before embedding a whole school or college approach to mental health. Please book your place on one of our intakes.
About the programme
Course Code: SMHL043
Learning Level: Intermediate
This Senior Mental Health Leads (SMHL) training will help you develop a strategic plan to embed positive mental health into your school culture. You will learn to successfully implement and maintain a whole-school approach in your school, creating an environment where your pupils can thrive.
During this 12-week programme, you will:
find effective ways to address your school's needs
grow your leadership skills in positive mental health
build a strong supportive network in your school community
share best practices with peers from other schools.
Hear from our expert trainers
You will be taught by our expert senior clinician trainers who have experience working in schools. Listen to them talk about how you and your school can benefit from completing Place2Be's Senior Mental Health Leads training.
How is the programme delivered?  
The course will be spread over 12 weeks. Course content is delivered in a variety of ways, detailed below. 
Activity

Four online modules completed at your own pace

Self-paced learning on strategic approaches to mental health and leadership on our online learning platform.

10 hours

Four interactive group sessions held online

Half-day online group training to embed your learning through experiential exercises and group discussions.

10 hours

Two individual consultations bespoke to you and your school

Two 1-hour consultations to discuss the priorities outlined in your school audit and to explore any challenges regarding implementation.

2 hours

Two small group reflective sessions

Group sessions offer a confidential space to explore issues and challenges you may be facing as a Senior Mental Health Lead at your school.

2 hours

Total contact time across 12 weeks

23-25 hours
Learning outcomes
The learning outcomes are aligned with the eight principles outlined by Public Health England (PHE) and the Department for Education (DfE) in their Promoting children and young people's mental health and wellbeing: A whole-school or college approach publication.

After completing the programme, leads will be able to:
Champion efforts to promote and support mental health and wellbeing, bringing about strategic change to deliver a practical whole-school approach.

Understand and plan appropriate responses to pupils' mental health and wellbeing needs.

Ensure children and young people can get timely and appropriate support.

Support their own mental health and wellbeing, and that of their pupils.

Promote respect and value diversity.

Ensure the voice of every pupil is heard and valued, and influence decisions.

Ensure everyone works as a team around the pupils, with a consistent approach and shared aims and strategies.

Promote resilience and support social and emotional learning.
You can find out more about the principles of a whole-school approach and how we implement it in our partner schools.
Benefits
The benefits of our SMHL training programme include having:
free access to Place2Be's Mental Health Champions Foundation programme for your wider team to develop your whole-school approach
personalised learning that considers your school's needs and priorities
expert support from qualified clinicians with experience working in schools
the opportunity to build a network of peer support
ongoing support for alumni with free access to additional resources, tips, learning and networking opportunities.
Why choose us?
With almost 30 years experience providing mental health support in schools, we're acknowledged specialists in our field. Over 1,000 Senior Mental Health Leads have trusted us to successfully deliver their training.
Accreditation
Our Senior Mental Health Leads Training programme has been CPD-certified and is Department for Education quality-assured.

The training has been accredited against the CPD's A.C.C.R.E.D.I.T.E.D. Framework.
This accreditation demonstrates that the learning we deliver is of the best quality.
Our programme is listed on the CPD Register, and our participants can collect CPD credits upon course completion.
Who is it for?
To be successful in the programme, you'll want to prioritise this part of your role. You'll need to work with your wider school community so that promoting positive mental health is part of your school's culture.
Our programme is suitable for Senior Mental Health Leads at primary schools, secondary schools and colleges in England. It's for those who have the support of their Senior Leadership Team to meet the requirements of the programme.
The training is ideal for:
headteachers
deputy headteachers
mental health leads
pastoral leads
safeguarding leads
Special Educational Needs Counsellors (SENCOs)
other roles in school leadership.
Please get in touch with us directly by emailing mhc@place2be.org.uk to discuss whether this programme will meet your needs if you:
hold a different role
are applying from a Further Education (FE) college or Special School
are based in Scotland, Wales or Northern Ireland.
You might also find our frequently asked questions about our SMHL programme helpful.
Funding eligibility
Course fee 
The fee for our SMHL programme is £880. 
You can pay via: 
Credit or debit card. We offer a £20 discount per booking if you pay online using the code 20SMHL. Please note that you will not receive an invoice if you pay this way. 
Offline payment. If you choose this payment method, we will send your school finance officer an invoice of £880 using the details you provide in your registration form.
Department for Education Grants 
Department for Education grants are available for the 2023/2024 financial year.
Eligible schools and colleges can now claim a second grant if a previously trained senior mental health lead left their setting before embedding a whole school or college approach to mental health.
You are likely to be eligible for a grant if you: 
are a state-funded school or college that has not previously applied for SMHL funding 
have appointed an SMHL that's being supported by the senior leadership team to implement a whole school approach to mental health. 
If you'd like to apply for a DfE grant to book our SMHL course, you'll need to:
check your eligibility on the DfE's website
reserve your grant by completing the DfE application service form 
book your place on an intake using the our registration form.
The DfE will contact you by email requesting evidence of your Place2Be course booking.
Self-funding 
We accept self-funding applications for our Senior Mental Health Leads programme.
Have a question?
Read our frequently asked questions to find out more about our Senior Mental Health Leads programme.
If you require more information, please email mhc@place2be.org.uk and one of our team will be able to help you.
Reviews
Completing the course with Place2Be has enhanced my role in school and the expertise provided will support development of our whole school approach. The action plan was particularly useful in ensuring we are covering what is required. We have created a Mental Health Action Group who will support each other in the development of our whole school approach to support children, staff and our wider school community. I've really enjoyed this course and have lots of ideas to put into practice. I'm looking forward to working with our team to embed wellbeing into our school community. Thank you for your support, and ongoing support via the staffroom.
Pastoral Lead at a primary school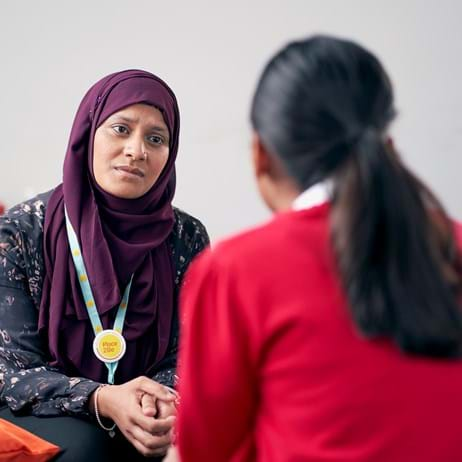 How to book
To sign up to our SMHL programme, click the 'Book SMHL training now' button at the bottom of this box.
Here, you can:
- choose your preferred course dates 
- provide details of who will be attending
- give payment information for our course fee of £880. 
Once you complete your application, we'll email you your booking confirmation. One of our friendly SMHL team will then be in touch about next steps.
Book SMHL training now