Schools Volunteering at Young Voices
Place2Be and Young Voices have teamed up to support children's mental health.
Young Voices is the world's largest school choir group, with over 150,000 primary school children involved at stadiums throughout the UK. Place2Be has teamed up with Young Voices to raise awareness and funds to support the emotional wellbeing of young people. But we need your help!
About volunteering at Young Voices
By volunteering, you'll play a crucial role in making the Young Voices concerts a success. You'll also be helping us raise money to equip, empower and give a voice to children across the UK, taking a vital step closer to a future where no child faces mental health issues alone. Volunteers can sign up for one night or more, and volunteering involves:
collecting donations as guests exit the venue
representing Place2Be and helping to raise awareness about our work
meeting and working with other volunteers, staff and supporters
having fun and enjoying the concert!
Before applying, please look at the Fundraising Event Volunteer Terms & Conditions.
Venue dates for Young Voices 2024

Resorts World Arena, Birmingham
Wednesday 10 January 2024
Thursday 11 January 2024
Friday 12 January 2024
Monday 22 January 2024
Tuesday 23 January 2024 (British Sign Language interpreted)
Wednesday 24 January 2024
Thursday 25 January 2024
Friday 26 January 2024
Thursday 22 February 2024
Friday 23 February 2024
Find out more about Resorts World Arena
Utilita Arena, Sheffield (formerly FlyDSA Arena)
Monday 8 January 2024
Tuesday 9 January 2024
Thursday 8 February 2024 (British Sign Language interpreted)
Friday 9 February 2024
Monday 19 February 2024
Tuesday 20 February 2024
Wednesday 21 February 2024
Age requirements
There's no minimum age for volunteering at the Young Voices concert series. However, a parent, carer or guardian must accompany all volunteers under 18 and sign the Place2Be Under 18 Volunteer Consent Form.
Any questions?
If you have any questions about volunteering at Young Voices, contact our Events Team at 07976 232 101 or email events@place2be.org.uk.
© Photography by Young Voices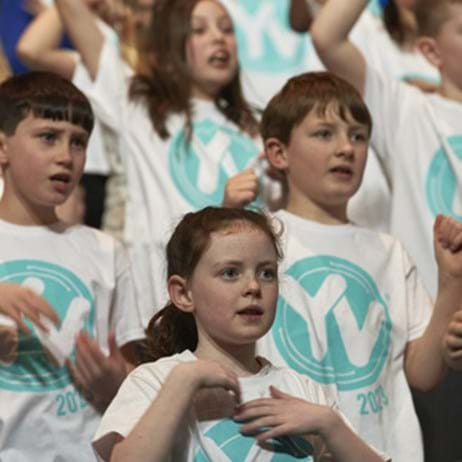 Apply to volunteer
To avoid disappointment, please ensure before booking that you can attend that specific date.