In 2018, Andrea faced her fears and completed her very first skydive after losing her sister-in-law to suicide. Andrea raised £985 for Place2Be and shares her story about how receiving mental health support early in life can make a real difference.
Tell us a little more about your challenge?
"I have always wanted to skydive but had been too scared to arrange it, but when I knew I wanted to fundraise for Place2Be, it seemed like the perfect opportunity. Going up in the aeroplane and waiting at the edge of the door ready to jump out, the thoughts of how these children would be helped by the work Place2Be do, kept me going and made me do it."
Why did you choose to support Place2Be?
"I lost my sister-in-law in 2014 to suicide (my husband's sister), she was aged 30 at the time. The stigma around mental health only started to be really challenged around the time she passed away and the Heads Together campaign led by the Duke and Duchess of Cambridge and the Duke of Sussex has been fundamental in putting mental health on a national agenda."
To hear of the struggles she went through before passing away made me realise just how vital early intervention and prevention support is at an early age.
"I found out about Place2Be through seeing on the news about the Duchess of Cambridge being their patron and when I read more into the work they do, I was blown away with their work not only for children but also parents and carers."
Tell us about the fundraising challenge you took on – how did it go?
"The sense of freedom and flying was the best part of the experience, I felt like I was literally on top of the world. It was an emotional experience even as I was free-falling, I knew my sister-in-law would be so proud and that something positive had come from the most devastating circumstances."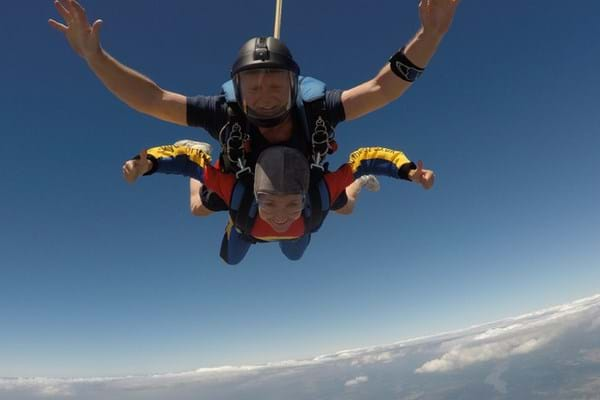 What advice or tips would you give to anyone taking on a challenge like this?
"Do it - don't let the fear stop you, the sense of helping these children will get you through any fear. It was so much fun and I would encourage anyone to do one."
Inspired by Andrea's story? 
Supporters like Andrea help to make a real difference to children and young people's mental health. If you're feeling inspired by Andrea's story and would like to see how you can follow in her footsteps and support Place2Be, learn more about how you can take part in an event.