Place2Be's Mental Health Champions programme shortlisted in Charity Awards 2022
Place2Be is delighted to announce that it has made the shortlist for this year's Charity Awards, one of the longest-running and most prestigious awards scheme in the charity sector.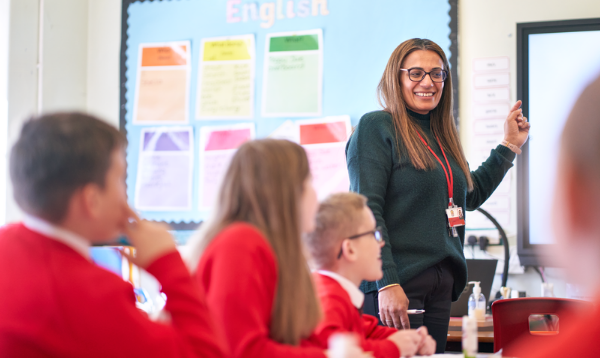 The Charity Awards 2022 has shortlisted Place2Be in the Children and Youth category for its Mental Health Champions – Foundation programme. This online course helps education professionals build skills and capacity for supporting positive mental health in schools and communities while also taking care of their own mental health and wellbeing.
Over 50,000 education professionals have accessed the programme since its launch in August 2020, and it's reached teachers and school staff in every county across the UK. Feedback on the programme has been incredibly positive:
97% of participants said they would recommend the programme to a colleague
Over 90% of participants felt the course increased their capacity to lead a positive approach to mental health and wellbeing
73% of participants learned something in the course that resulted in a change in their workplace's actions, behaviour, or attitude.
A night of celebration for the charity sector
The Charity Awards, which announces its shortlist today (11 May), is one of the sector's most highly-regarded excellence recognition schemes. An independent panel of sector leaders will judge the 30 shortlisted charities this year. All panel members have demonstrated best practice in leadership and management, from which other organisations can learn.
The Awards will announce ten category winners at a black-tie dinner on 16 June, held at the Royal Lancaster Hotel in London.
Broadcaster and commentator Ayesha Hazarika will host the evening, and celebrities and representatives of the shortlisted charities will join her for the night of celebration. Leaders from Britain's most renowned and best-loved charities will also attend.
We are thrilled to be shortlisted for this year's Charity Awards. Our Mental Health Champions – Foundation programme equips teachers with the understanding, skills and confidence to respond to the growing number of mental health issues they are seeing in their classrooms. We were overwhelmed by the response to the programme when we launched in 2020. These awards are a fantastic way to recognise the hard work of our team who developed the programme and continue to deliver it, ultimately for the benefit of more children and young people across the UK.
Catherine Roche, Chief Executive of Place2Be
Matthew Nolan, chief executive of Civil Society Media, which organises the Charity Awards, congratulated Place2Be on making the highly-coveted shortlist. He said:
"The breadth and quality of the work being done by charities across the UK continues to astonish. Place2Be should be very proud to have made the shortlist.
"For 22 years the Charity Awards have been identifying and celebrating the fantastic work that UK charities do. Our rigorous judging process highlights those charities with the most innovative ideas and the most effective approaches to delivering real change.
"All the nominees on this year's shortlist are examples of large and small charities who are truly leaders in their field. I wish Place2Be the very best of luck on the night."
Peter Hugh Smith, chief executive at CCLA, Overall Partner of the Charity Awards, said:
"The Charity Awards celebrate the pinnacle of charitable endeavour and this year's entries are no exception. CCLA is delighted to support the Awards and to help promote the fantastic work that the sector is doing across the UK.  We wish Place2Be the very best of luck."
Sign up for our Mental Health Champions Foundation programme
For UK teachers and support staff:
Book as a teacher or support staff member
If you're a trainee teacher or work for a youth organisation: