Supporting young carers' mental health
According to The Children's Society, there are over 800,000 young carers in the UK. These 'young carers' often have to grow up more quickly than their classmates. They can miss out on some of the things we associate with a childhood, like spending time with friends and even going to school every day, because they're busy at home.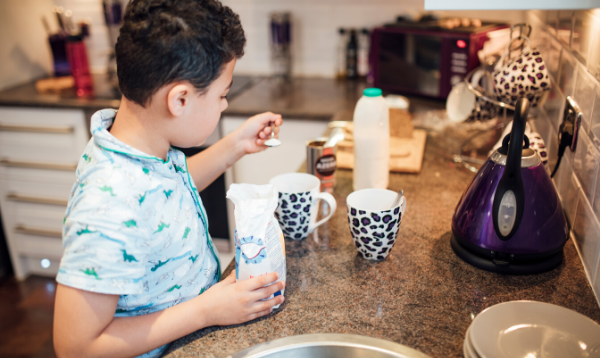 We know that the pandemic may have placed additional pressure on our young carers, and also resulted in many other children and young people finding themselves in the new situation of caring for someone who has become unwell.
Young people may have had to care for relatives who have had to self-isolate due to long term health needs, and may have faced additional pressure accessing practical necessities (such as household items, food, medicines and health care) at a time when the usual support systems may have been less available.
After a potentially challenging year, these young carers may now be anxious about being back at school, and concerned about who will care for their family members.
We've pulled together some recommended resources and advice for young people, and for schools who are aware of young carers and are looking to support them.
Advice and support for young people
If you've been caring for someone in your family, it's so important that you find ways to care for yourself too and seek support when you need it. Try and find time to talk about your feelings and experiences with a trusted adult – this could be someone at school, your GP or a family member.
If you ever urgently need to talk, the Shout crisis helpline is available 24/7. Text CONNECT to 85258 to speak to one of their trained volunteers. They will be able to help you process your feelings if you're struggling, or you can visit our 'get urgent help' page for more advice on where to find urgent support.
The Mix UK, YoungMinds and the NHS have lots more advice on how to look after yourself:
Resources for schools
A whole-school approach is so important to supporting young carers, and helps to ensure that the pressures and responsibility of supporting young carers does not just sit with senior leaders or a class teacher.
With pupils now back at school, it is important to prioritise the mental health needs of young people in the caring role, and offer additional space to check in, listen to their experiences, and the things that could help them moving forward. This could be by facilitating reconnection with support systems, re-establishing helpful routines or encouraging them to identify the things they need to look after their own mental health and wellbeing.
If you're in a Place2Be partner school, talk to your School Project Manager about how they can help you to support your pupils who may be caring for a family member at home. This could be advice for staff on spotting when a pupil is struggling, one-to-one counselling, or supporting teachers through Place2Think consultation sessions.
If you're looking for resources to support your school's approach: