Celebrating 10 years of our Royal Patronage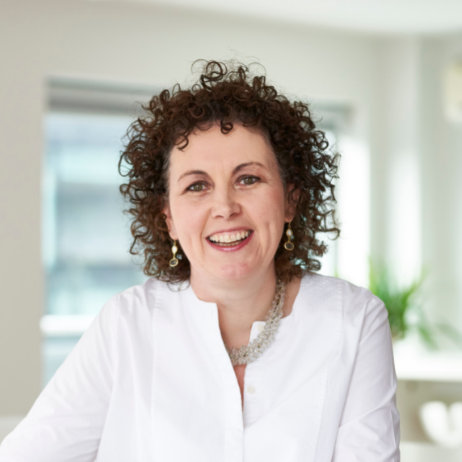 Chief Executive - Catherine began her career in teaching before completing an MBA and joining KPMG. In 1996, her pro bono support for Place2Be inspired her to join the charity as Chief Operating Officer, and then Deputy CEO. In 2014, she became Chief Executive and has driven the organisation's growth.
In 2013, Place2Be became one of the early charities to receive patronage from HRH The Princess of Wales. As we mark 10 years of Royal Patronage, Place2Be's Chief Executive Catherine Roche reflects on the impact that Her Royal Highness' support has had on Place2Be, and on children's mental health and wellbeing, over the last 10 years.
When HRH The Princess of Wales became our Royal Patron in April 2013, there was a huge amount of stigma associated with mental health. Her Royal Highness (The Duchess of Cambridge at the time) announced her patronage for Place2Be citing a particular interest in "early intervention mental health support for young people, to tackle mental health issues at the earliest stage, so that children have the brightest possible futures, as they deserve." Back then, Place2Be was working with 200 schools supporting 75,000 children and young people and we had just piloted our first training programme for teachers.
Encouraging cross-sector collaboration
In her inaugural event as Royal Patron, The Princess brought us together with fellow patronage charity Action on Addiction to launch M-PACT Plus, a programme to address the negative impact of parental substance misuse on children. This was the first of many cross-sector partnerships facilitated by Her Royal Highness.
In 2016, TRHs The Prince and Princess of Wales, and the Duke of Sussex, launched 'Heads Together', which brought eight leading mental health charities together to tackle the stigma around accessing mental health support. The campaign, the first of its kind, encouraged more conversations around mental health and was a real instigator of cross-sector collaboration between the charities establishing relationships that still continue today.
Equipping schools with skills and resources to support young people
Over the course of her patronage, The Princess has met with school leaders, teachers and school staff to better understand the challenges they face. Speaking at Place2Be's second School Leader Conference in 2015, she said "Parents, teachers and other school staff need the tools to help these young people early in their lives."
Over the years to follow, Her Royal Highness and The Royal Foundation supported charities to create and share these tools with the launch of the Mentally Healthy Schools website. The website, developed in partnership between the Anna Freud Centre, Young Minds, Place2Be and The Royal Foundation and launched in 2018, was designed to give teachers and school staff information and practical resources to help them support students.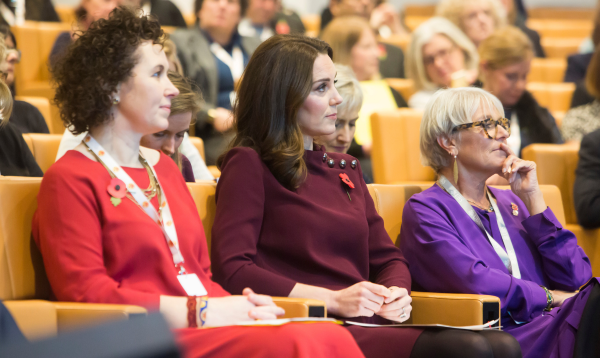 In 2019, The Princess hosted a round table discussion as part of the Mental Health in Education conference presented by The Royal Foundation. Speaking at the event, she reinforced her commitment to supporting school staff saying "It is also clear that the positive development of our children is directly linked to those who care for them, teachers, carers and parents... it is therefore vital that we support teachers with their own wellbeing so that they can find the best level of care for all children, in their schools and communities in which they work."
As a result of the roundtable and with the feedback from our School Leader Conferences, a year later we launched Place2Be's Mental Health Champions – Foundation programme to do just that. Then throughout the pandemic, our 5-week programme was made available for 50,000 teachers and school staff across the UK at a time when schools were truly on the frontlines. Over 67,000 teachers and professionals have now accessed the programme - which is now also available to trainee teachers and youth workers. 93% of programme participants feel that the course has increased their capacity to lead a positive approach to mental health and wellbeing in their schools. The programme is part of a suite of resources and training we now offer comprising our Senior Mental Health Leads training and the Place2Be Staffroom (an online community of 10,000+ professionals).
Increasing understanding of children's mental health
With Her Royal Highness' support, in 2015 we embarked on an ambitious project to raise awareness and build understanding of children's mental health by launching Children's Mental Health Week.
From visits to Place2Be partner schools and delivering assemblies on kindness, to reading a CBeebies bedtime story and sharing supportive video messages, the Princess has helped to make this annual campaign a key moment for schools and families across the UK.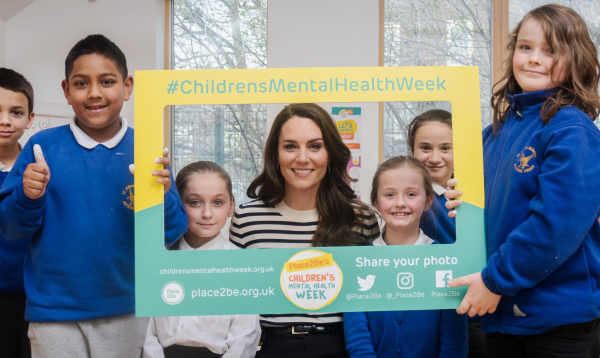 For Children's Mental Health Week 2023, our free resources for schools and families were downloaded over 197,000 times, and our videos for the week were viewed over 1.4 million times.
Spotlighting the importance of early intervention and support for families
Throughout her patronage, Her Royal Highness has emphasised the importance of supporting children early, informed by evidence, and ensuring families have the guidance, support and resources they need to do this. This culminated in the launch of the Royal Foundation Centre for Early Childhood in 2021.
In the same year, as we listened to our school communities and drew on our evidence and experience of working in schools, we launched Parenting Smart. Aimed at parents and carers of children aged 4-11, this free resource offers practical advice developed by Place2Be's parenting experts. Since it was launched, over 58,000 users have visited the site, and we have since developed training and further interventions to support families across our partner schools.
Over the past 10 years, Place2Be's reach and impact has continued to grow, and we're currently working with over 500 schools supporting a school community of over 243,000 children and young people. Alongside our school partnerships, with the support and inspiration from Our Royal Patron, we have also been able to expand our impact through training, campaigns and resources such as Children's Mental Health Week.
We are forever grateful to Her Royal Highness for her support and ongoing deep commitment to children and young people's mental health. We look forward to continuing to expand the impact that together we can all make and the difference we can make in children's lives.