'Thank God I Had Therapy Yesterday' – Deb'bora's story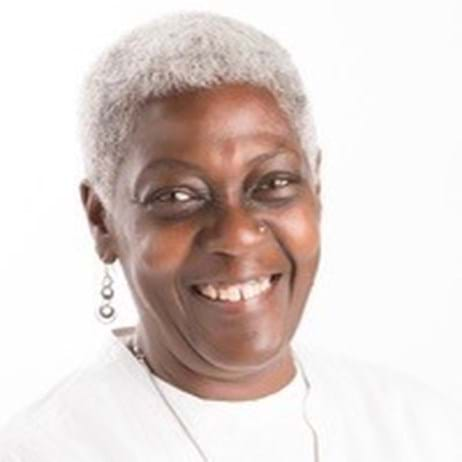 Deb'bora is a Gestalt Psychotherapist with a MA in Psychotherapy, who also has a background as a drama therapist, Montessori teacher, actor, director and writer. Over the past 40 years, she has worked with children, young people and families in a variety of organisations, including Action for Children, Barnardo's and Place2Be.
Deb'bora Imani is an instrumental figure in Place2Be's history. During her time with us, she was responsible for establishing Place2Be in Scotland and piloting our early parenting work. In this guest blog, she shares her story with us.
What motivated you to go to therapy?
"I first heard of therapy from my high school friend. But I was not allowed to attend. My mother made it very clear that she did the best she could and there was no need to talk to anyone about her or our family. That seemed to be an overall attitude towards personal therapy of the black community I grew up in. I moved out at 17 - and by 18 I was in therapy.
"I liked the idea of trying to make sense of my life and did not feel I was putting anyone to shame. I was trying to understand myself, and the journey I was on, as a young black woman. My mother was pleased when I started training as a psychotherapist and finally began to understand the role of therapy."
Why did you decide to train as a therapist?
"For 15 years I was an actress, singer and performer touring the USA and Europe. The people were great but the lifestyle did not suit me. I knew I had to make a change. Because I perceived the therapeutic world as being predominantly white, I never thought to become a psychotherapist. I also thought that having so much personal therapy would count against me.
"I considered it more seriously when a friend said "…you're such a good listener - we all come to you with our problems." I was able to listen because of the work I was doing on myself. I went on to train as a Gestalt Psychotherapist. I realised after my course interview that being in therapy all those years was an asset. With regards to being a black woman, it was very much as I thought: With only two of us in the group I found it very challenging, but realised it was an important journey to continue."
When did you join Place2Be?
"I joined in 1998 as a School Project Manager. During my nine years with the organisation I worked as a Psychotherapist / School Project Manager / Project Developer, successfully introducing and piloting Place2Be in Scotland and developed a new initiative – 'A Place for Parents,' which offered therapeutic support to parents of children who attend Place2Be's sessions. I'm pleased that Place2Be's work with parents has continued to evolve across England, Scotland and Wales."
You introduced Place2Be in Scotland and piloted A Place for Parents (APFP) for the organisation. How did that come about?
"Several years after being with Place2Be it was clear that we worked with the children but not with their parents and carers, who were significant figures in their immediate environment. I recognised the importance of working with 'the whole child' within the context of different environments namely the family, and the wider school community. Benita Refson, the CEO at the time, was very open to this happening so she supported me piloting 'A Place for Parents' in London.
"Once our parenting work was successfully piloted and adopted in the organisation, I moved to Scotland and requested permission to set up Place2Be and support for parents there too. I met with the Minister for Education in Edinburgh and the rest is history.
"I started with two schools in Edinburgh, Balgreen and Murrayburn. After a year of piloting the programme, we added another three.
"Looking back at my time with Place2Be, and my career journey, I reflect on how an inner voice guided me in directions that may not have made sense to me or others at the time but I trusted and listened to it. I could not have successfully completed that journey without some amazing mentors who believed in me and whom I could always go to for guidance and support. They would listen to my ideas and experiences and give me constructive, direct, and honest feedback. In particular, I want to mention, and offer my heartfelt gratitude, to Benita Refson, Catherine Roche, Chris Forrest, Clare Crombie, and The Gestalt Center.
"Most importantly, I want to thank all the teachers, carers, and children for giving me the opportunity to trust and to listen and to support them on their journey."
Deb'bora's autobiographical audiobook 'Thank God I Had Therapy Yesterday' follows her personal journey shaped by family, faith and beliefs. To learn more, visit debbora.com