UK school children's pandemic memories preserved in historic Time Capsule
The memories of school children's lives during the Covid-19 pandemic have been preserved for the nation in a unique Time Capsule, sealed at BAFTA's newly redeveloped headquarters for the next 25 years.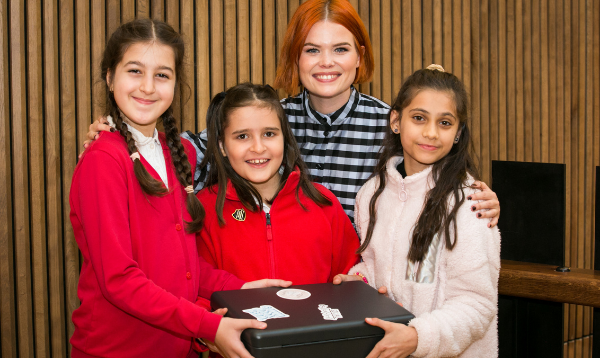 This historic initiative from children's charities BAFTA Kids, Place2Be and Oak National Academy has seen the paintings, sculptures, writing and digital media creations of 41 schools from across England, Scotland and Wales stored at BAFTA's home and headquarters - 195 Piccadilly.
The pupils' reflections on this important moment in history will be shared when the capsule is opened in 2047, marking BAFTA's 100-year anniversary. Highlights from the hundreds of entries have been selected to feature in a moving showcase film, screened at a ceremony to mark the sealing of the Time Capsule, attended by pupils from Upton Park Primary School and Eleanor Palmer Primary School, whose work features in the film. The ceremony was also attended by Ricky Martin, Lindsey Russell, Ben Shires and Nikki Lilly; who all contributed to the project.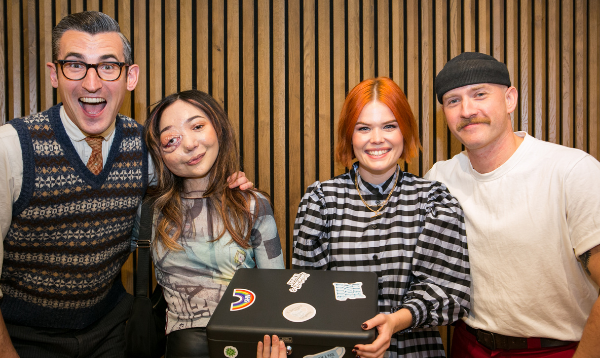 The works include a large-scale sculpture of landmark buildings in the capital made from boxes set to words asking "May I walk in your street again?"; a poem comparing lockdown to a snail crawling back into its shell; and a host of colourful paintings and drawings depicting the challenges of being trapped indoors and missing school and friends. Many wrote about their disappointment as weeks of lockdown turned into months with no certainty on when it would end.
However, children also celebrated the work of the NHS with pictures of rainbows, and wrote about valuing time spent with family and making the most of their once-a-day venture outdoors.
A host of famous faces including Claudia Winkleman, Lindsey Russell, and Place2Be Ambassadors Lemn Sissay, Rhys Stephenson and Katie Thistleton have supported the project, contributing to a video encouraging children to get involved and make history with their works of art.
Following the prolonged periods of school closures, the 2021 Schools Time Capsule project offered an opportunity for school communities to come together to reflect on and capture their experiences of the past two years in a bid to allow young people to process their feelings.
Children were encouraged to use creative expression to document how the global pandemic affected their learning, friendships and everyday lives, demonstrating the emotional and physical impact they have endured as a result of lockdowns and home-schooling.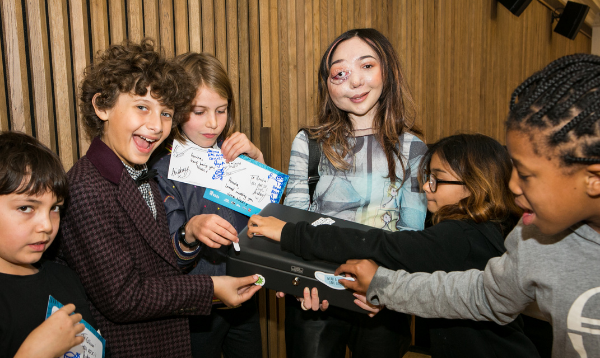 We have loved seeing the creative ways that children and young people chose to share their experiences for the 2021 Schools Time Capsule – whether it's the difficult times and the things they've missed, or the special moments and what they've learned. This is a wonderfully unique collection of memories to preserve for the future.
Catherine Roche, Chief Executive of Place2Be
This time capsule will be opened in 25 years' time, to mark BAFTA's 100-year anniversary and to celebrate how kids have made it through difficult times over the past year. It highlights how art, media and other creative expression has underpinned the struggles of the last year for young talent, and something BAFTA can look forward to celebrating in the future.
Tim Hunter, Executive Director of Inclusion Policy & Membership at BAFTA
It has been a tough 18 months for children and young people. As we look forward to things returning to normal, it's important to reflect back on how the pandemic has affected their friendships, schooling and everyday life. The 2021 School Time Capsule has been a unique chance to preserve their insights on this moment in history for future generations to learn from — and of course to have fun in the process.
Matt Hood, Principal of Oak National Academy