Rhys Stephenson becomes an ambassador for Place2Be
TV presenter Rhys Stephenson, who is best known as the energetic, smiling face of children's TV channel CBBC, has become Place2Be's newest Ambassador.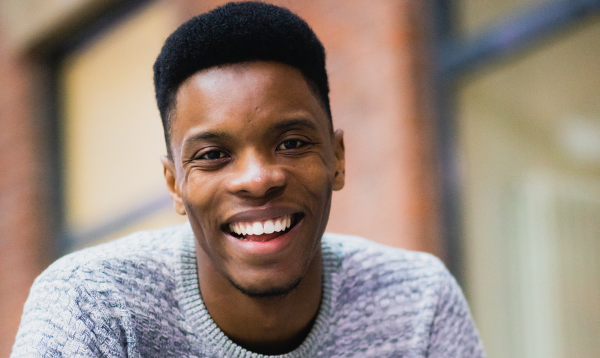 Following a year of incredible support, Rhys is stepping up from being a Place2Be champion to the role of ambassador. In the past year, he's got involved with many Place2Be projects; taking part in BAFTA Kids at Home with Place2Be, reading in our annual Carol Concert, and leading our virtual assembly for Children's Mental Health Week. Rhys also took to the rugby pitch, recorded numerous video messages for pupils and made virtual visits into Place2Be partner schools.
Most recently, Rhys led the launch of the 2021 Schools Time Capsule, our project with BAFTA Kids and Oak Virtual Academy to help children and young people across the UK recollect and reflect on life during the pandemic.
With restrictions lifting, Rhys, together with longstanding Place2Be Ambassador and radio presenter Katie Thistleton, visited Moston Fields Primary School in Greater Manchester to work with some pupils as they created their content for entering into the 2021 Schools Time Capsule.
After supporting the year 5 class with their Time Capsule entries, Rhys heard from Head Teacher Sarah Murray on how the pandemic has exacerbated pressures and difficulties already being faced by many families in this school community. "There is a lot of trauma, but I was struck by how much hope and laughter we experienced too. I feel like I properly saw into the heart of Place2Be through those children." said Rhys, who also met some of the children who have been supported by Place2Be. Like the 6-year-old who explained to Rhys: "I went to Place2Be because I was worried, and then afterwards I felt unworried".
Yesterday was a real moment. I was hard hit but I was focussing on how brilliant it is that these kids at least have someone to talk to. The ability that children have to bounce back from heartache and disappointment to a place of joy and hope amazes me. It's a wonderful innocence that many of us adults can learn from. So, I'm so proud to be supporting Place2Be who make it their mission to protect that innocence - because optimism should be the essence of every child.
Rhys Stephenson
Commenting on Rhys' appointment, Place2Be's Chief Executive said:
"Having Rhys' support and endorsement over the last year has been a terrific boost for all of us here at Place2Be and across our partner schools. He has been so engaged and active – and it is the most tremendous honour that Rhys has agreed to grow his Champion role and become a fully-fledged Place2Be charity Ambassador. We greatly appreciate all he does in support of Place2Be and more widely in encouraging children and parents to think about their mental health needs and general wellbeing."