BAFTA Kids Roadshow with Place2Be visits Edinburgh and North Ayrshire
Last week, the BAFTA Kids Roadshow visited schools in Edinburgh and North Ayrshire. Pupils at three primary schools were treated to a TV presenting masterclass to boost their confidence and creativity, delivered by popular children's TV presenters.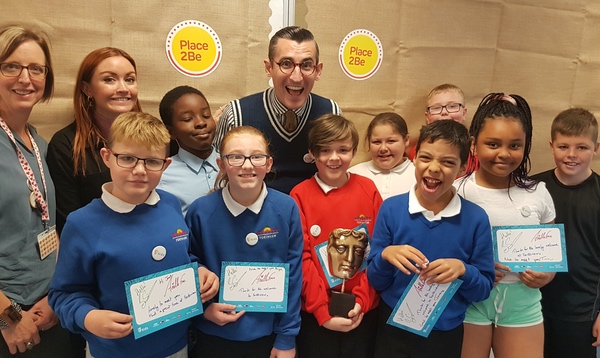 Pupils in three Scottish primary schools were joined by CBBC presenter and Radio 1 DJ Arielle Free, and CBBC and Dave presenter Ben Shires for their TV presenting masterclass, and a Key Stage 2 School assembly.
In Edinburgh, the Roadshow visited Forthview Primary School. Forthview Primary School was nominated in Place2Be's 2019 Wellbeing in Schools Awards. A group of parents from the school wrote and published No Worries last year, a fiction book about children dealing with anxiety together. The book was launched during Place2Be's Children's Mental Health Week 2018, and it is stocked in libraries in Scotland.
I am delighted that the BAFTA Kids Roadshow came to Forthview Primary to give the children the opportunity to meet the presenters and learn what goes on behind the scenes. They were able to develop their confidence in presenting to an audience themselves, as well as seeing aspirational figures for their future whatever job or career route they take.
Sharon Mitchell, Headteacher at Forthview Primary School
I've loved being a part of the BAFTA Roadshow workshop team as it's proven to me just how switched on and eager the youth of today are. For one day we all come together to break down barriers they may face in their ambitions and give them tools of knowledge and confidence to take with them for any situation. This has been another jam-packed and joyous week meeting all the awesome kids of my homeland and I look forward to seeing them all pop up in the future, conquering the world.
TV presenter and DJ Arielle Free
The BAFTA Kids Roadshow, which was named the London Book Fair's Charity of the Year in January, has been travelling all around the UK in the past 2 years, visiting schools in Bath, Birmingham, Bradford, Cardiff, Croydon, Easington, Edinburgh, Glasgow, Harlow, Leeds, Manchester, Margate, North Ayrshire, Preston and Salford.
Over the next few months, we are excited to bring the Roadshow to more schools.