People's Postcode Lottery helps Place2Be reach more children
Thanks to the generosity of players of the People's Postcode Lottery, Place2Be is able to significantly increase its mental health support for tens of thousands of UK pupils.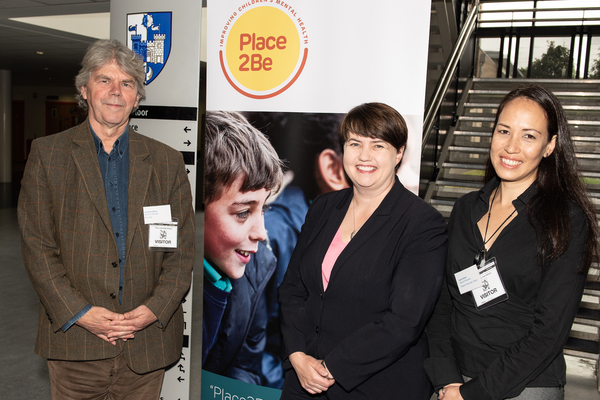 Pictured: Ruth Davidson MSP with Jonathan Wood, National Manager for Scotland, and Laura Chow, Head of Charities at People's Postcode Lottery.
Place2Be is very grateful for the generous support of the players of People's Postcode Lottery. Over the last six years, funding from the Postcode Children Trust has helped us to significantly increase our reach, growing from working in 200 schools to providing mental health services in 327 schools reaching over 173,000 pupils across the UK. We have also developed and scaled up innovative training programmes for school staff to develop their capacity to support children's mental health. In the past year, we have trained 768 teachers and school leaders across 318 schools.
Meeting children's needs
People's Postcode Lottery's long-term commitment and flexible funding is vital to Place2Be's future development and growth. It enables us to sustain our work and adapt to the growing and urgent needs of our children and young people.
Place2Be is the ideal service for our school community due to the holistic nature of the provision. No other service provides support for the young person, their family and our staff Place2Be is integral to our school community because we know that only by taking care of the whole person, can we support young people to achieve their potential.
Headteacher
How Place2Be helps children to thrive
Of children who used Place2Be's services in 2017/18:
69% were less disruptive in class
77% found it easier to make friends
64% of their difficulties impacted less on learning
81% with severe difficulties showed improvement.
Information about People's Postcode Lottery
People's Postcode Lottery manages multiple society lotteries promoted by different charities and good causes. People play with their chosen postcodes for a chance to win prizes. A minimum of 32% from each subscription goes directly to charities and good causes across Great Britain and internationally.
It costs £10 a month to play and winning postcodes are announced every day. For details, please visit www.postcodelottery.co.uk/prizes
New players can sign up to pay using direct debit by calling 0808 10 9 8 7 6 5. New players who sign up online at www.postcodelottery.co.uk can pay using direct debit, debit card or PayPal.
Postcode Lottery Limited is regulated by the Gambling Commission under licence numbers: 000-000829-N-102511 and 000-000829-R-102513. Registered office: Titchfield House, 69/85 Tabernacle Street, London, EC2A 4BD