To fundraise for Children's Mental Health Week 2021, 6-year-old Jasmine walked 31 miles dressed in various uplifting costumes.  This year, she wanted to go bigger and better.
Inspired by one of her favourite quotes, which she has on her bedside, 'Let her sleep, for when she wakes she will move mountains', Jasmine decided she wanted to climb one for Place2Be. Mum Abbey and Jasmine researched mountains in and around the UK and agreed on Mount Snowdon—the highest peak in Wales.
Initially scheduled for Children's Mental Health Week 2022, they had to postpone their incredible climb due to severe weather warnings. But conditions were still far from kind on the day. Leaving home at 5am, Abbey and Jasmine arrived to start the walk at 7:30am, in heavy rain.
On Jasmine's Snowdon climb, her mum Abbey said:
"As we ascended, the visibility lessened, the rain turned to hail, and then the hail turned to snow and ice. Determined not to give up, Jasmine found some inner strength and persevered to reach the Summit—receiving a round of applause and even donations from fellow hikers."
"As a mother and someone who has experienced mental health difficulties, I actively encourage open and honest conversations with my children where they can discuss their positive and negative feelings. Jasmine cares and empathises with her friends and 'doesn't want anyone ever to be sad'."

"I am an advocate of early intervention. Through our discussions and fundraising activities, Jasmine understands the importance of speaking out about her feelings and encouraging others to do the same."
With children spending the most of their day in education, it is vital they feel safe and comfortable to have these conversations within their school environment and that they are adequately supported adequately when they do so. This is what makes the work that Place2Be so do important to us.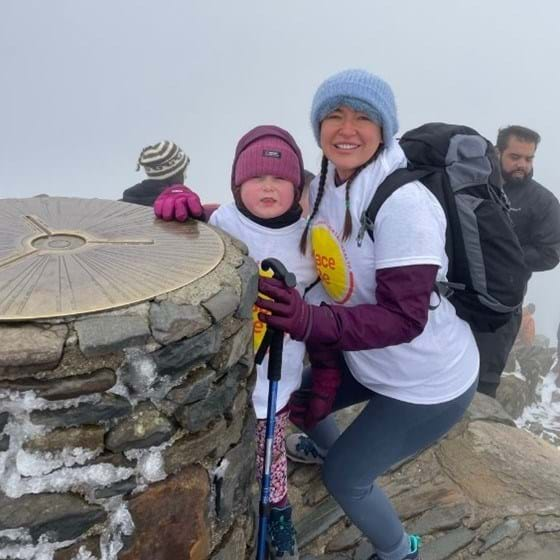 After completing the incredible climb, Jasmine reflected that she "is stronger than she thought, and you should never give up." 
Jasmine's advice to anyone struggling with their mental health
Talk – to your parents, family, friends, teachers, or anybody you feel comfortable talking to and SHARE your feelings. 
Do something you enjoy, crafting, a jigsaw, a game, or seeing some friends. 
Go for a walk and keep active, fresh air is very good for you.
Never give up! 
Jasmine's tips for other children who'd like to take on a big challenge like this
Decide what you would like to do. Giving your time up for an event, no matter how big or small, is a massive achievement.  
Get a grown-up involved to help with the important bits like supplies, weather, keeping safe and how you'll get there. 
Tell your school, the local newspaper and all the clubs you attend outside school. 
Tell everybody about what you are doing and why it is important – have your sponsorship forms or fundraising page handy. 
Remember to HAVE FUN, and congratulate yourself on deciding to help other people.