The counselling and support we offer
Pupils come to Place2Be for lots of different reasons. The most common ones are anxiety, struggling to focus, low self-esteem, mood swings and trouble with their family.
Our in-school support works collectively with pupils, families and school staff to help your school community cope with challenges like these.
Place2Talk – pupils book appointments with a Place2Be counsellor to talk about problems and worries
One-to-one counselling – weekly counselling using talking, creative work, and play to support pupils who are struggling
Group work – therapeutic groups exploring issues like friendship, self-esteem, transition and bullying
Family Practitioner – access to a Family Practitioner to provide dedicated advice and support for parents and carers in primary schools
Guidance, training and safeguarding advice for staff – our mental health professionals share their expertise on issues such as managing and understanding behaviour, Special Educational Needs and Disabilities (SEND) and Additional Support Needs (ASN), safeguarding and coping with staff stress.
Read about how we provide support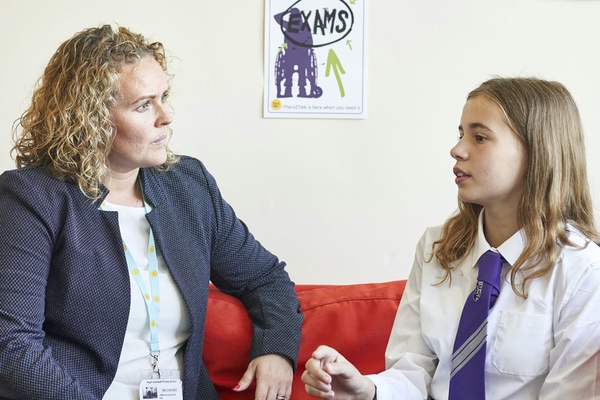 Helping you understand the world of mental health
Place2Be helps schools to understand the world of mental health. We signpost other organisations and help schools refer pupils to specialist support like Child and Adolescent Mental Health Services (CAMHS) where needed.
Measuring pupils' wellbeing in Place2Be partner schools
Place2Be works in partnership with ImpactEd – an organisation committed to supporting schools to evaluate their impact across various outcomes and interpret and learn from findings. This free resource to assess pupils' wellbeing is available for up to 3 years to all Place2Be partner schools.
Mental health support in a crisis
Place2Be works in partnership with Shout, a 24/7 text messaging service to support anyone in crisis, anytime, anywhere.
Find out more
Get in touch using our enquiries form or call us on 020 7923 5500.
---