The Art Room is a group programme that uses art-making and discussion to support pupils with emotional difficulties.
In a safe and creative environment, children and young people can explore their feelings, express themselves and grow in confidence.
Using group discussion, stories, art-making and reflection time, our highly trained staff support children and young people with emotional difficulties within a vibrant and welcoming space within the school, or a neighbouring school.
Groups of up to eight pupils between the ages of five and 16 attend The Art Room once a week for at least a term.
Pupils who didn't have faith in themselves and never put their hands up are now excited to shout about what they've achieved. I always ring-fence The Art Room in my budget - it's a small price to pay for the effect they have on the lives of my children.
Head Teacher
Who attends The Art Room?
With consent from parents and carers, schools refer pupils who need help to thrive at school.
These pupils might:
Struggle with wellbeing
Need help improving social skills, building trust and becoming more confident
Find large groups difficult
Benefit from a break from school or home. 

They may also be going through change as:
A looked after child
An asylum seeker
A young carer
A new pupil.

In the safe and creative environment of The Art Room, children and young people often take the opportunity to talk about what is worrying them.
We keep an ongoing dialogue with the school to help staff understand their behaviour and encourage them to get the most out of their learning.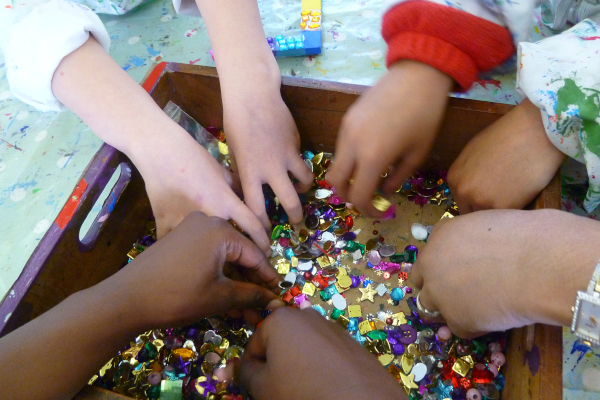 What happens in an Art Room session?
Sessions at The Art Room are carefully planned and structured to help children and young people feel supported.
Working with our highly-trained staff, they transform an everyday object – like a lampshade, stool, clock or tray – into a work of art which they take home with them.
The work gives them a chance to explore their feelings, express themselves and grow in confidence, as well as developing social skills, making their own decisions and feeling proud of their achievements.
We encourage pupils to carry these positive changes into the rest of their lives, so they can get the most out of their learning and relationships.
Changes to the Art Room service 
Place2Be carried out a business review of The Art Room service in 2019. The conclusion is that unfortunately, in its current format, the service has limited accessibility and is not financially sustainable, particularly in an environment where school budgets are under pressure.
The Art Room continues to operate in its current format until the end of Spring Term 2020. At this point, the eight fixed Art Rooms will close.
We are now developing a more accessible and financially-viable model for the Art Room, as a mobile service that would enable us to reach more children and young people in the future.
Our teams are working with school staff to identify alternative support for children who have previously accessed our services, where required.