The BAFTA Roadshow with Place2Be arrives in Wales
This week, BAFTA (British Academy of Film and Television Arts) and Place2Be travelled to Wales to bring the BAFTA Roadshow to Cardiff and Merthyr Tydfil.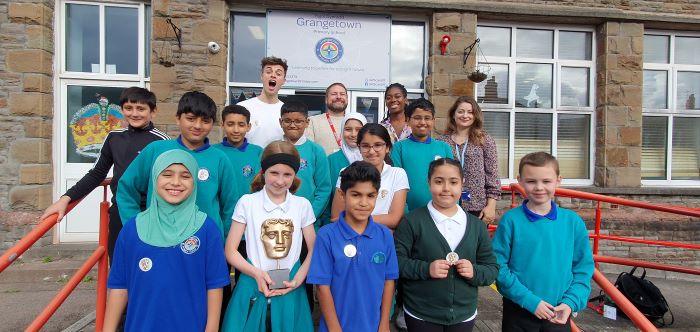 On Wednesday 4 October, Grangetown Primary School in Cardiff were joined by TV presenters Joe Tasker (CBBC's Saturday Mash-Up Live!, Content Creator) and Shanequa Paris (BBC Newsround, Radio 1). Joe and Shanequa hosted a special assembly and a presenting masterclass. 
The children were also joined by Jon James, from local animation studio Hollowpixel. Jon joined in with the activities and gave creative advice to the pupils. 
Cardiff has been a brilliant introduction to my first BAFTA Roadshow with Place2Be! It was fulfilling to teach the children about the creative industry and the different career avenues that the industry has to offer. My favourite part of the day was the children doing our presenting masterclass - there were lots of smiley faces, laughter, and future superstars!
Joe Tasker, presenter of CBBC's Saturday Mash-Up Live! and content creator
Later on in the week, Joe and Shanequa brought the BAFTA Roadshow to Ynysowen Primary School in Merthyr Tydfil.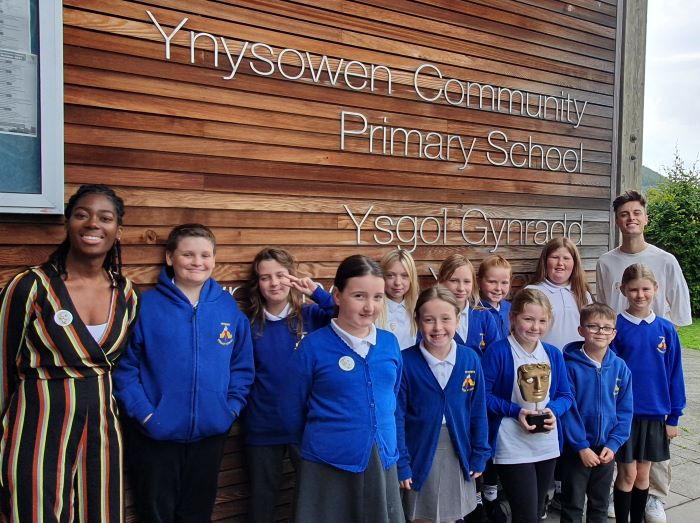 BAFTA also teamed up with Into Film to deliver a teacher training session to Ynysowen's school based staff. The session included a free taster in film literacy and film for literacy, equipping teachers with resources to implement learning through film into the curriculum.
I've loved being a part of this years' BAFTA Roadshow with Place2Be. It's proven to me just how switched on and curious the generation of today are. It's brilliant that the Roadshow gives children access to tools of knowledge and confidence to consider a career in TV, film and gaming. The children at Ynysowen Primary School were a joy to spend the day with and what a talented bunch they are!
Shanequa Paris, presenter of BBC Newsround and Radio 1
What is the BAFTA Roadshow with Place2Be?
The Roadshow exists to champion children's creativity and teach important life skills through film, games, and television. 
Each roadshow includes a variety of interactive elements, including:
competitions
round table discussions
classroom meet and greets
a games design workshop
presenting masterclass.
The activities give children access to creative talent and positive role models, while raising awareness and encouraging young people interested in a career in arts and media.  
Inspiring the next generation of budding creatives, designers and content creators is central to BAFTA's purpose. We are thrilled to partner with Place2Be on our national roundshow, bringing talent to regions across the UK and showcasing our brilliant screen industries. Nurturing children's creativity is crucial for mental wellbeing and offers a huge variety of transferable skills. We believe it has a vital place in the school curriculum. This wonderful initiative champions a more inclusive screen industry by providing aspiration from an early age and highlighting the variety of careers available.
Lisa Prime, Head of Children & Young People's Programmes at BAFTA