Donna's story - creating a mentally healthy school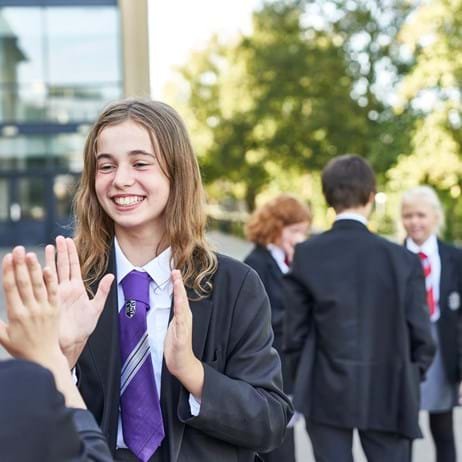 Lead Trauma Informed Practitioner at Carmarthenshire Secondary Teaching and Learning Centre, Donna has 12 years of experience working with young people. She specialises in the trauma recovery model and is passionate about supporting young people by identifying and addressing their needs.
Donna Thomas, Lead Trauma Informed Practitioner at Carmarthenshire Secondary Teaching and Learning Centre, celebrates the dedication of her school-based staff colleagues who go above and beyond to promote a mentally healthy school.
School-based staff make some of the most meaningful contributions to the lives of children and young people. They enrich students' lives far beyond what the school structure requires.
Not only do they teach, mark homework, prepare lunch, and fill in end-of-term reports. They contribute to so much more.
I am the Lead Trauma Informed Practitioner at Carmarthenshire Secondary Teaching and Learning Centre. Across our three sites, the school can cater to 102 children and young people aged 11-16 who require support with emotional and behavioural difficulties.
As we continue to live in a world of uncertainty and negativity, our mission is to make our pupils see the world more positively. Mental health and wellbeing are considered to be the main ethos of the school, and it underpins everything we do within our roles.
The school community at Carmarthenshire takes a whole school approach. The adults prioritise championing the pupil voice, allowing them to have an input into school life and learning. By taking this approach, staff members across the board can help our pupils flourish and build resilience. 
Despite the demands and expectations teachers have daily, they invest so much of themselves outside of school hours by not only ensuring that children are catching up and learning but also supporting their mental wellbeing.
All staff - from the Head Teacher to our Teaching Assistants – take pride in practicing positive pupil and staff interactions based on the need of the pupil. These can vary from having lunch with the pupils, walking and talking, using arts and crafts, and playing sport. With staff embedding these effective practices, we have seen a positive build in relationships, which has helped regulate and support our learners.
Every morning and afternoon, our pupils meet with their designated staff member for a mini check-in. Colleagues also carry out home visits and regularly communicate with parents and carers to ensure they feel supported. Teaching Assistants help with the development and support in classrooms and, in time of need, will cover classroom activity.  
Staff are also trained in empathic listening, trauma recovery, and PACE (Playfulness, Acceptance, Curiosity and Empathy). Many have also participated in Place2Be's Mental Health Champions - Foundation programme, inspiring staff to carry out interventions such as cognitive behaviour therapy.
Earlier this year, the wonderful staff members at Carmarthenshire were celebrated at Place2Be's Wellbeing in Schools Awards. The school was announced the winner of The Mina Dell Mentally Healthy School Award, and staff were recognised by the judges for the great passion and commitment demonstrated towards mental health and wellbeing.
Little moments of recognition like these demonstrate how school-based staff across the UK work hard to inspire, guide, educate and mentor every day. Each member plays a part in making a significant difference in how children and young people greet each obstacle daily.
Learn more about Place2Be's free mental health training for school staff