Children visit GCHQ for a very special lesson
Children from Place2Be partner school, St Margaret's CofE Primary School, had the rare opportunity to step inside the walls of GCHQ's top secret base in Manchester on Monday.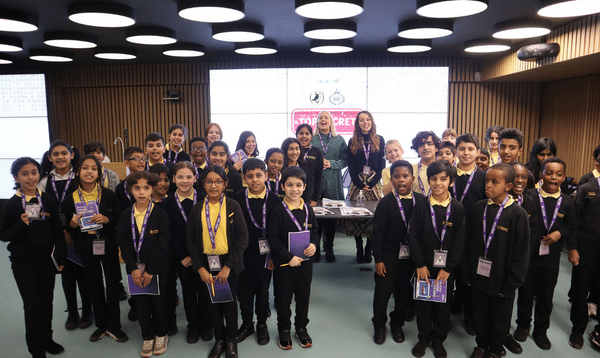 On Monday, GCHQ welcomed 60 students from Place2Be partner school St Margaret's CofE Primary School to their Manchester office for a very special lesson run by their North West code breakers. Centred around puzzles taken from GCHQ's first children's book, Puzzles for Spies, the lesson focused on languages, engineering, codebreaking, analysis, maths, coding and cyber security – all key skills needed at GCHQ. 
The partnership between Place2Be, whose Royal Patron is Her Royal Highness The Princess of Wales, and GCHQ came about through a connection made by Kensington Palace and The Royal Foundation.
The foreword to Puzzles for Spies was written by The Prince and Princess of Wales, whose Royal Foundation also receives proceeds from GCHQ's puzzle books.
Studies have shown the positive impact puzzle solving, and teamwork can have on a person's mental and emotional wellbeing and, in their foreword, Their Royal Highnesses say:
"We are delighted that the brilliant minds at GCHQ have been busy working on a third puzzle book, and that this edition is designed for younger readers… Talking openly about mental health can be the first step in removing stigma, fear and isolation. Just like at GCHQ, bringing different perspectives together can often be the key to unlocking a solution you can't quite find on your own."
The Prince and Princess of Wales
During their top-secret visit, pupils were introduced to many aspects of the work GCHQ does and had the opportunity to try out codebreaking and brainteasers, word riddles and language puzzles, logic games and reasoning activities. As the day progressed, the children became more confident as they honed their puzzle-solving skills.
Pupils were joined at GCHQ by Place2Be Ambassador Katie Thistleton and CBBC Presenter and Place2Be supporter Evie Pickerill. As Katie, Evie and the pupils worked through the fun activities in small groups, they were encouraged to develop their teamworking and communications skills – becoming more empathetic and able to listen to each other and reflecting on their own thoughts and standpoints as they viewed situations from different perspectives.
"I'm really interested in the link between puzzling and mental health. Doing puzzles and problem solving together, can really help children with their resilience, relationships and self-confidence."
Katie Thistleton, Broadcaster and Place2Be Ambassador
"It's been lovely to watch the children really thinking through the puzzles and working as a team"
Evie Pickerill, Presenter and Place2Be supporter
Acquiring problem-solving skills is an essential part of child development. Learning how to approach and solve problems – whether at home or school – positively affects the quality of a child's relationships with others and self-esteem.
"Problem-solving encourages creativity, ingenuity, and imagination - which are all vital skills for growing and thriving into adulthood. Helping children to solve problems for themselves encourages them to develop resilience in the face of adversity, and helps them to become more confident, independent and successful in their own right."
Catherine Roche, Chief Executive of Place2Be