Young Voices and Place2Be team up to support children's mental health
Young Voices has selected Place2Be as its official charity for Young Voices' 25th anniversary concert series.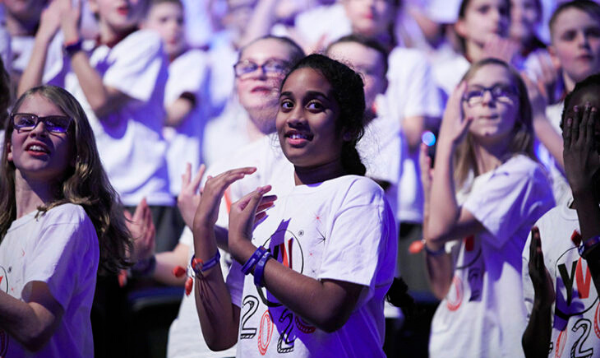 Young Voices, the world's largest school choir organisation, and Place2Be will work in partnership to raise awareness and funding for children's mental health.
Ben Lewis, Chief Executive at Young Voices, said:
"Young Voices and Place2Be both share a fundamental ethos that puts the child at the centre of their organisation and by teaming up we believe we can have a huge impact on the wellbeing of thousands of children."
Place2Be has been leading the conversation on children's mental health for 25 years and we are honoured to be working with them in what will be our 25th anniversary series. Together we can go even further to support our schools and have a really meaningful impact on the wellbeing and mental health of the next generation.
Ben Lewis, Chief Executive at Young Voices
The partnership hopes to raise over £100,000 to support Place2Be's training for teachers and school leaders across the UK, to equip them with the knowledge, skills and confidence to create mentally healthy learning environments.
Singing together can be an incredibly uplifting experience, and the children who participate in Young Voices describe increased confidence and self-esteem as a result of the experience. At a time when we are all in need of connection and a community, what better way to come together than in song? We're excited to join forces with Young Voices and extend our impact to more schools, teachers and pupils.
Catherine Roche, Chief Executive of Place2Be
A 2017 survey* showed that over 2.14 million Britons are now members of a choir. Group singing has been proven to have positive effects on your mental health, as well as encouraging social interaction, improving feelings of affiliation, closeness and encouraging social bonding.
Dr Daisy Fancourt, Associate Professor at UCL has researched the impact of group singing on mental health. She added: 
''Singing as a group can have a profound impact on our mental health. My research over the past 8 years has shown that being part of a choir can reduce symptoms of depression and improve wellbeing, self-belief and self-esteem. These effects can be felt in healthy individuals and also in specific groups including new mums with post-natal depression, people with mental illness, people with health conditions such as respiratory diseases or cancers, carers, and people who have been bereaved.''
*The Big Choral Census by Voices Now