Duchess of Cambridge installs her garden accompanied by children from Place2Be
Today the garden designed for children by the Duchess of Cambridge is being installed at the Royal Horticultural Society Garden Wisley, as part of their 'Back to Nature Festival'.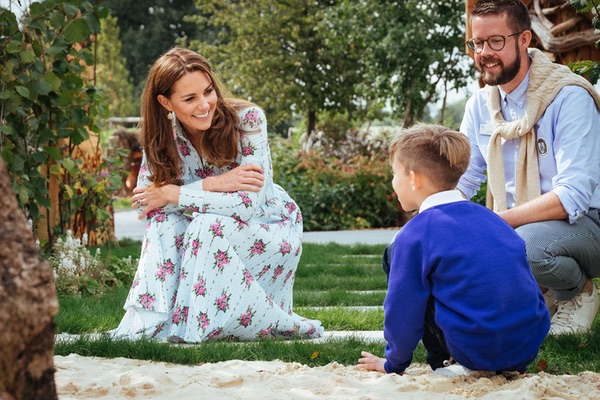 Earlier this year HRH The Duchess of Cambridge unveiled her 'back to nature' garden at the Chelsea Flower Show and then again at Hampton Court Palace Garden Festival.
Today's event brings together organisations involved with HRH The Duchess of Cambridge's work on Early Years, as well as those championing the benefits that nature can have on childhood development.
Ten children, aged 7 to 9, from Place2Be's partner school Barlby Primary, were invited to try out the garden.
Place2Be started work at Barlby in 2017, as a project initiated in response to the Grenfell tragedy. Sadly many of the Barlby families were affected by the Grenfell Tower fire. The school found a welcoming space from which Place2Be could offer One-to-One counselling and Place2Talk.
Barlby Primary School was nominated for Place2Be's 'Wellbeing in Schools Awards 2019' with Learning Mentor Pauline Riley our Place2Be link, being nominated for the Adult Champion Award and Barlby for the School Community Award, which they both won.
The children from Barlby School enjoyed the gardens and all the activities that were so thoughtfully prepared. They were especially excited to be invited to meet with the Duchess of Cambridge and TV chef Mary Berry, who shared some lovely cakes with them. The Duchess invited the children to enjoy the 'Back to Nature Gardens' to reinforce the importance of connectedness with nature and its impact on their emotional wellbeing.
Angelica McMillan, Place2Be's Westway Cluster Manager, who accompanied the children to Wisley
Our children live and learn in an urban environment and we really value the opportunity to visit Wisley, explore the gardens and experience nature. The children are thrilled to spend time outdoors and the gardens have provided them with adventures and happy memories.
Anthony Mannix, Headteacher Barlby Primary School
Read more about our Royal Patron