BAFTA Kids Roadshow with Place2Be visits Birmingham and Leeds
This week the BAFTA Kids Roadshow with Place2Be visited schools in Birmingham and Leeds.
On Tuesday, children at Ark Kings Academy in King's Norton were treated to a TV workshop hosted by Lindsey Russell (Blue Peter) and Ben Shires (CBBC, Dave), which aimed to boost students' confidence and creativity.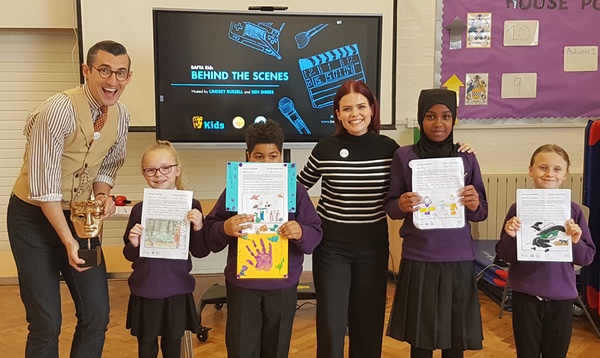 Lindsey and Ben with pupils at Ark King's Academy.
On Wednesday, Lindsey and Ben visited Grange Farm Primary School in Leeds.
"Being a part of the BAFTA Kids Roadshows is always such a thrill, but our visit to Leeds took things to the next level! The kids were all so lively, engaged and keen to learn about the worlds of film, games and TV (as well as hold a real-life BAFTA mask of course!) And I certainly wouldn't bet against a few of them winning one of their own someday, too."
Ben Shires, TV Presenter and Comedian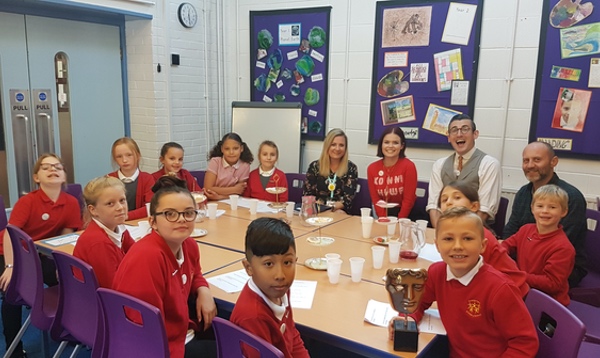 Lindsey and Ben with pupils at Grange Farm Primary School.
"I've loved being a part of the BAFTA Kids Roadshow this year as it shows just how engaged and full of potential young people are. For one day we all work together to expand knowledge and confidence tools that the pupils can take with them for any situation they may face at school, at home, or later in life. It has been so much fun meeting these kids in Birmingham and I can't wait to see them all achieve great things in the future."
Lindsey Russell, TY Presenter
The Roadshow exists to champion children's creativity and teach important life skills through film, games and television. Children taking part also earn soft skills that are important for emotional wellbeing and career progression.
The Roadshow has been travelling around the UK for two years, visiting schools in Bath, Birmingham, Bradford, Cardiff, Croydon, Easington, Edinburgh, Glasgow, Harlow, Leeds, Manchester, Margate, North Ayrshire, Preston and Salford. This year the London Book Fair announced BAFTA Kids Roadshow with Place2Be as their Charity of the Year.