Place2Be pupils explore HRH Duchess of Cambridge's 'Back to Nature Garden'
Six pupils from a Place2Be Partner School, Hampton Hill Junior, were invited by HRH, The Duchess of Cambridge to meet her and explore her Back to Nature Garden at Hampton Court.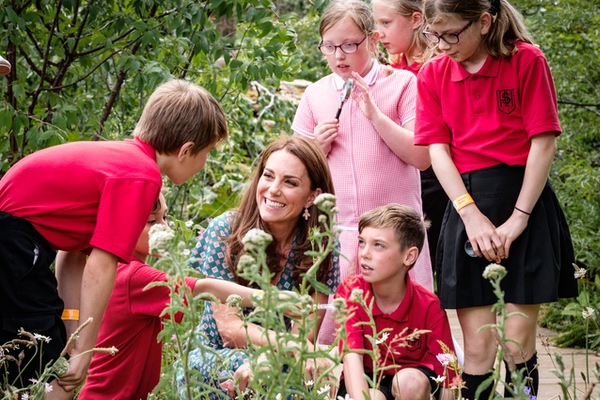 Children from Her Royal Highness' patronages, Anna Freud, Evelina Children's Hospital, Action for Children and Place2Be's partner school Hampton Hill Junior School, joined her in a picnic, treasure hunt and insect-spotting activity.
Following its launch at the Chelsea Flower Show, Her Royal Highness' Back to Nature Garden has transferred to Hampton Court Palace Garden Festival.
The garden aims to demonstrate the pivotal role that being outdoors can play in a child's health and happiness.
I thought it was a dream, I can't believe I'm really here in her garden.
Ten-year-old Ruby
Linda Eversley, Place2Be School Project Manager, who accompanied the six Hampton Hill children, said: "I felt really proud watching our children talking confidently with the princess. It's something they will remember for the rest of their lives."
Linda was a finalist in Place2Be's Wellbeing in Schools Awards 2019.
It's really pretty. I like the swing, the den and the tree house best
Ten-year-old Megan.
Caroline Wrigglesworth, Safeguarding, Inclusion and Admissions Manager at Hampton Hill, who also accompanied the group, said: "Linda has positively changed the culture of our school. She has raised the expectations of our ability to make a positive change to a child's mental health through her ability to understand how to build resilience by coaching and empowering rather than simply solving their issues for them."
Place2Be has been working with Hampton Hill Junior School since 2015.