Significant rise in number of school-based counsellors
New research released by Place2Be and school leaders union NAHT has found that the number of schools commissioning professional help for the children's mental health issues has increased significantly since 2016.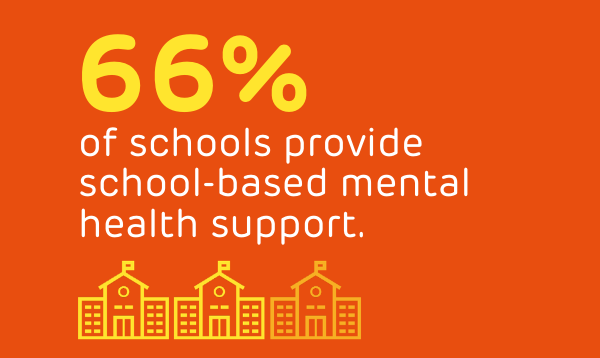 In 2016, 36% of schools in England provided school-based support for students' emotional and mental wellbeing. By 2019, this had almost doubled to 66%.
653 school leaders completed our survey at the end of 2019, and the results can be compared to similar joint surveys in 2016 and 2017*.
The survey shows an improved understanding and recognition of children's mental health in schools. 74% of school leaders said the majority of their staff are confident at recognising the signs of mental health problems among children and young people (versus 61 per cent in 2017).
School leaders also said the majority of their staff would be confident understanding the issues that may underlie children's and young people's behaviour (74% in 2019 compared to 68% in 2017) and understanding how children and young people's mental health impacts on their engagement with learning (81% compared to 77%).
Paul Whiteman, general secretary of school leaders union NAHT said:
''We know that early intervention is absolutely key when it comes to mental health and wellbeing. We can see that schools are responding to an increasing need and a lack of capacity in specialist services by commissioning their own support such as counsellors.''
Although to be applauded, this is another area where schools are being forced to use scant resources for urgent provision that is not provided for in their budgets.
Paul Whiteman, general secretary of NAHT
"There is still concern that when children do have more serious mental health needs professional help is not easily available. Teachers are on the frontline for children's mental health, but they are not qualified medical specialists. Where schools consider that a pupil's needs go beyond their experience and expertise, their role is to refer those pupils to other professionals to address those needs, and they should be able to expect timely and effective support."
Three children in every classroom now has a mental health issue, so it is positive to see these results which show that more school leaders are responding to this need by providing professional support for children and young people within school.
Catherine Roche, Chief Executive at Place2Be
"In this, Children's Mental Health Week, we want to highlight that school staff need support to deal with the many and often complex emotional issues of their pupils. At Place2Be, we work with schools leaders to help them better understand mental health and to develop a 'whole school approach' to improving mental health, so that pupils can focus on their learning. But schools cannot tackle this problem alone. They need expert help in school, backed up by NHS services that can step in when more specialist support is required."
Full survey results press release (PDF 128KB)
*In 2016, the survey was completed by 1,455 primary school leaders across England
In 2017, the survey was completed by 1,115 primary and secondary school leaders from across England and Wales
In 2019, the survey was completed by 653 primary and secondary school leaders across England