Place2Be to launch 25 new bursaries to boost numbers of child counsellors
Place2Be will launch 25 new bursaries for our child counselling courses to help mark our 25th anniversary.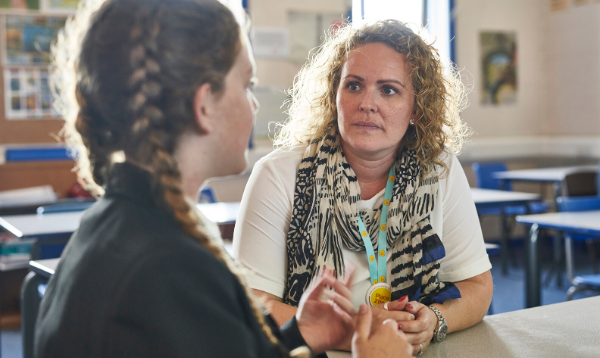 The bursaries have been made possible thanks to the generous support of The Wolfson Foundation, an independent, grant-making charity which aims to improve the civic health of society through education and research.
We know that three children in every class now have a diagnosable mental health condition, and that schools are increasingly looking to commission external professional support for pupils.
Place2Be's child counselling courses, qualifications and placements are informed by 25 years' experience delivering mental health services in schools.
Our bursaries will be means-tested to ensure that the training is accessible to a broad audience to best support the children, young people and parents Place2Be works with across the UK.
Paul Ramsbottom, Chief Executive of the Wolfson Foundation said: 
''We are delighted to be working in partnership with Place2Be to increase the number of child counsellors, which follows a long Wolfson tradition of supporting talented individuals in crucial areas for British society.''
We are particularly pleased that these bursaries will support people from a range of backgrounds – conscious as we are aware that counsellors currently tend not to reflect the diverse demographic of young people with mental health problems.
Paul Ramsbottom, Chief Executive of the Wolfson Foundation
The bursaries will be available for successful applicants to the following child-counselling courses offered by Place2Be:
Catherine Roche, Chief Executive of Place2Be said:
''Increasing numbers of schools are looking for professional support for pupils' mental health, but there are not enough child counsellors with the right specialist skills and experience to meet this need. Place2Be's child counselling qualifications address this gap, and are part of our organisation's aim to build the children's mental health professional workforce.''
We are hugely grateful to The Wolfson Foundation for their support which will enable more counsellors to develop their skills, and ultimately more children and young people to access high quality support.
Catherine Roche, Chief Executive of Place2Be
Bursaries update
Thank you to everyone who has applied to train with us through the bursary scheme. We are working through all applications and will notify applicants on the status of their submissions.
If you are interested in working therapeutically with children and young people, you can find out more about our training pathways and clinical placements.